Mini Dental Implants Charleston WV
Your teeth control airflow when you speak. They provide you with a beautiful smile. They are also integral to the health of your jawbone and the shape of your face. Losing your teeth affects all of these functions.


At Mountain State Oral and Facial Surgery, we offer dental implants as a way to replace your missing teeth. However, traditional dental implants may not be for everyone. This does not mean you are out of luck. We are proud to offer mini dental implants, which help to make implants available to more tooth loss patients.


Traditional Dental Implants

Standard implants are the latest in tooth replacement technology. They consist of small titanium rods, which are surgically inserted into the jawbone. As you heal from surgery, the bone fuses to the titanium implants, a process known as osseointegration, essentially turning them into strong, stable roots. The standard implants themselves are then used to support your replacement teeth, typically ceramic crowns, which are securely screwed permanently in place.


Mini Implants

Typically, dental implants require a sufficient amount of bone mass for success. However, once you lose your teeth, gum tissue in your jawbone begins to resorb or lose mass, causing it to become weak. In the past, if you wanted to receive dental implants, you would first have to undergo a bone graft, another oral surgery with a lengthy recovery period.

Mini dental implants enable you to avoid the need for bone graft surgery while providing you with the benefits of dental implants. They are small titanium posts that have a ball on the exposed ends. Mini implants can be used in several different situations, including replacing teeth in narrow locations and replacing small teeth. They can also be used to stabilize dentures, particularly in the lower jaw.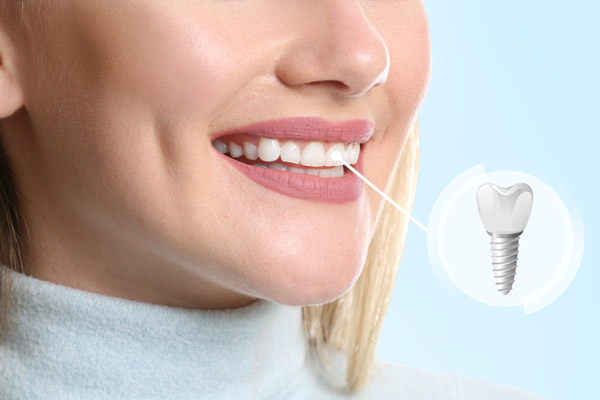 What's The Difference?

There are several differences between conventional dental implants and mini dental implants. The most notable difference between the two is the size. Traditional implants are approximately 3.4 to 5.8 mm in diameter. In contrast, mini implants have a much smaller diameter, approximately 1.8 and 3.3 mm. Another major difference between the two is the design.

Traditional full sized implants are titanium rods that are topped with an abutment, or connector. Your crowns are screwed in place. Mini dental implants do not have abutments or screws. Instead, the implants are topped with a ball. A socket and elastic O-ring are used to secure your replacement crown, or crowns, in place.


Mini Dental Implant Procedure

This procedure is fairly similar to the procedure for placing dental implants. Due to the size of the mini implants, however, the surgery is much less invasive and much shorter, and healing is faster. We begin with a local anesthetic and, if necessary, sedation. Incisions are made in the gum tissue, exposing the jawbone. a small hole is drilled into the bone and the implants are placed. Finally, the tissue is sutured closed around the implants.

Temporary teeth are provided while you heal. Once you have fully healed, we then take impressions and create your permanent replacement crowns.


Benefits Of Mini Dental Implants
| | |
| --- | --- |
| • | Dental Implants can accomplish a number of goals, such as stabilizing dentures and replacing single and multiple missing teeth. One of the most sought-after benefits of this procedure is that it's a lot less of an invasive surgery than regular dental implants. Your oral surgeon will use a localized anesthetic to ensure you don't feel any pain during implant placement. |
| • | Furthermore, the recovery time is faster since the procedure is minimally invasive. However, the benefit that precedes everything else is the cost of the procedure. While it can vary, mini dental implants are generally less expensive than traditional implants. |
| • | Unlike traditional implants, a mini dental implant does not require as much jawbone mass. Hence, you can be a candidate for the procedure if you have some bone loss in the jaw due to any reason. Since there is no jawbone mass requirement for dental prosthesis, you won't need to undergo a bone grafting procedure either, which is sometimes required before dental implant placement. You can spare yourself dealing with a long healing period due to this extra procedure. |
| • | Receiving standard dental implants requires making multiple visits to the dentist. Your surgeon cannot place replacement teeth until the gums and jaw have healed. However, with mini dental implants, your surgeon can place replacement teeth on the same day as the implant procedure. |
| • | Apart from being less painful and far less invasive, the procedure also allows your jaw and teeth to maintain their original size and placement. |
| • | Last but not least, mini dental implants can easily fit into the smaller areas of your mouth, which is a huge plus if you're someone with a small jaw. |
Disadvantages Of Mini Dental Implants

As with every other procedure, mini dental implants also carry downsides of their own. For one, they're not permanent replacements for your extracted teeth.

While the mini dental implant procedure is short and convenient, it doesn't promise long-lasting results. You can expect a typical implant to stay in place only for a few months or a year before it is removed.


Are You A Good Candidate For A Mini Dental Implant?

Unfortunately, not everyone can be a candidate for mini dental implants. If you're someone who grinds their teeth, you may want to reconsider opting for this procedure. Furthermore, people with certain health conditions like diabetes, periodontitis, hemophilia, and bone disease cannot qualify for the mini-implant procedure.

Additionally, if you have recently received radiation or chemotherapy or if you're a smoker with limited oral hygiene, you may not be a good candidate for the procedure. Again, while there is no strict jawbone density requirement, some bone density is still required. Hence, any bone loss, tooth loss, and severe decay can hinder your chances of undergoing the procedure.


Are Mini Dental Implants Right For You?

Just because you may not be a candidate for traditional dental implants, that does not mean you have to live with dentures. There are other restoration options for you!


Mini Dental Implant Experts Near You!

Call your dental implant experts at Mountain State Oral and Facial Surgery today to schedule a consultation!