Benefits of Dental Implants

Charleston, WV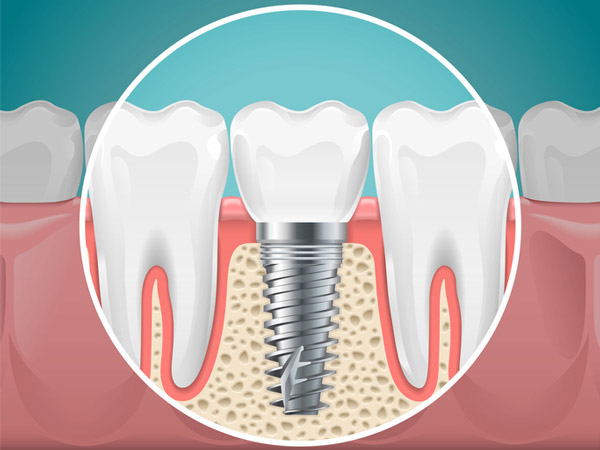 Teeth are crucial for your overall health and quality of life. As we grow older, the chances of losing one or more of our teeth - due to oral diseases, trauma or improper care - grows bigger. However, if you find that you have lost teeth, then it is important to remember that you are not alone. Fortunately, dental implants present a modern solution to missing teeth and are slowly becoming a staple over the many other replacement options. Our experts at Mountain State Oral and Facial Surgery can help you regain your old, beautiful smile through dental implants, helping to provide you with comfort that can last a lifetime.


What Is a Dental Implant?

A dental implant is a type of full tooth prosthesis which is surgically placed in your jawbone. The implant consists of a synthetic crown (which is equal in appearance and feel to your natural teeth), which is attached with an abutment to a titanium screw-shaped post. This post acts as a tooth root, carefully securing the implant to your jawbone. The titanium post is bio-compatible, meaning that it does not cause infections and is able to naturally fuse with your jawbone over time. Dental implants are a fantastic replacement option that offers several benefits to your mouth.


Dental Implants Prevent the Development of Oral Diseases

Missing teeth can lead to multiple problems. This is because teeth block bacteria from entering your gums, but an exposed socket is a perfect place for them to attack and induce gum disease, a dangerous infection that damages and reduces the gum tissue. An exposed socket also forces its neighbor teeth to shift and misalign in order to fill the space.

Moreover, the lack of pressure in the area starts a resorption process where the jawbone gradually shrinks, making patients look significantly older. The titanium root of an implant is strong enough to prevent the resorption from occurring, or it can help reverse it, as it works as a base for bone regeneration. The crown also completely covers the socket and hugs the gum, so there are no worries about bacteria-related diseases or shifting teeth.


Dental Implants Are Equal to Natural Teeth

Dental implants are cosmetically and functionally identical to the rest of your teeth, which means they will not only restore your smile, but also improve your ability to chew with comfort and ease. The implant can help better distribute the stress applied to the jawbone whenever we eat. We need a complete set of teeth to communicate as well, since it controls the airflow of your mouth and helps your tongue move, allowing you to be able to properly pronounce words.


Dental Implants Are a One-Time Investment

Our team will monitor the recovery post-op until the implant completely adapts to your jaw. If properly maintained, the implant is designed to last for decades. This means you will not have to struggle with replacement costs or constant adjustments. All you need to do is take care of your new tooth with regular brushing and flossing and you can reasonably expect a lifetime of happy smiles after your procedure.


The Best Replacement Option

Dentures are still widely used in patients with missing teeth, but they are far from effective in the long term. They do not provide the stimulation a jawbone demands, need to be constantly removed for cleaning, and are prone for slipping away from your mouth. Similar to bridges, they also need to be replaced and only provide a fraction of the chewing power needed to ease the eating process.

Dental implants, in contrast, are safe, convenient, and comfortable, providing the perfect alternative to natural teeth. Furthermore, they do not compromise either the look nor capability of your mouth. For more information about dental implants, or to learn more about whether you may be a candidate for them, please contact us at Mountain State Oral and Facial Surgery at 304-343-5161 today.