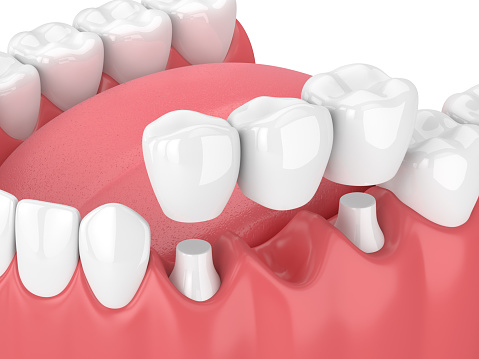 Your teeth are responsible for numerous essential daily tasks. They help you to bite and chew food. They control airflow when you speak. They provide you with a beautiful, confident smile. While taking care of your teeth every day is crucial for protecting their health, you may still experience an issue. Some of these issues can even result in tooth loss. Missing teeth, even if it is just only one or two, can have a serious impact on your oral health, your appearance, and your overall quality of life. At Mountain State Oral and Facial Surgery, we can help to restore your missing teeth with bridges.


What is a Dental Bridge?
A bridge is a dental restoration designed to restore missing teeth. It is made out of ceramic, and it can be used to restore up to three missing teeth in a single area of the mouth. While there are a few different types of bridges, the most common is known as a fixed bridge. A fixed bridge is a single piece that consists of your replacement teeth set between two dental crowns. The crowns are used to anchor the bridge into place by setting them over the two adjacent healthy teeth.
Benefits of a Bridge

The use of a bridge to replace missing teeth has several benefits, including:

•
The restoration of the basic functions of your teeth.

•
The beauty of your smile is restored.

•
It helps to improve your oral health and your overall nutrition.

•
Bridges do not require a surgical procedure for placement.

•
They help to hold your natural teeth in their proper alignment, preventing them from shifting and
throwing off your bite.
How is a Bridge Placed?

The procedure for placing a bridge is fairly similar to the procedure for placing a dental crown.

Before beginning your procedure, we administer a local anesthetic. The anesthetic will ensure that you do not feel any discomfort while we prepare the teeth for the crowns. Preparation of the teeth involves the removal of a portion of the enamel from each tooth. The removal of this enamel is necessary to ensure that the bridge fits properly in among the rest of your teeth.

Once the teeth have been prepared, we take a digital impression of your mouth. The digital impression is displayed almost immediately on our computer screen, allowing us to begin the design process. The image provides exact 1 to 1 measurements of your mouth so that we can design a much more accurate restoration. We send the impression information to our in-house lab, where your bridge is milled. Once it is ready, we check to make sure that it fits properly and then use a special dental cement to secure it in place.




Do Bridges Require Special Care?

Bridges do not require any special care. In fact, they can, and should, be cared for just like the rest of your natural teeth. This involves brushing at least twice daily and flossing at least once a day. The bridge may not experience decay, but it can collect plaque and bacteria that can contribute to the decay of adjacent teeth as well as gum disease.

It is also still important to maintain regular dental visits for cleanings and exams. During your exams, the bridge will be inspected for damage alongside the rest of your natural teeth, and any repairs can be made as necessary to prevent serious issues later on.

Ignoring missing teeth can lead to serious issues. A bridge not only helps to restore your oral health, but it also gives you back your beautiful smile.

If you are interested, we also offer dental implants for certain cases. If you want to know the difference between

dental bridges

and implants, give us a call! We can help determine which option is the better solution for you.

For more information, or to schedule your consultation, call us at 304-343-5161 today.