Community Projects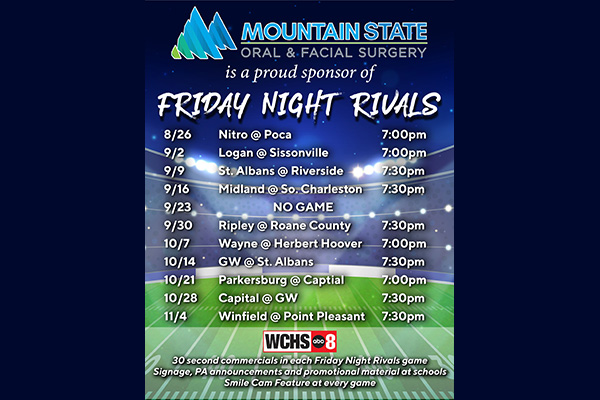 Friday Night Rivals Sponsors
Mountain State Oral and Facial Surgery is a proud sponsor of Friday Night Rivals. 30 second commercials in each Friday Night Rivals Game. Signage, PA announcements and promotional material at schools. Smile Cam Feature at every game. View
Full Schedule
.
Patients Awareded College Scholarships
Mountain State Oral and Facial Surgery awards patients with college scholarships. "MSOFS is going above and beyond fixing smiles by investing in their patient's education. MSOFS has awarded three scholarships to their patients at their Kanawha, Beckley, and Vinton offices." Read the full
WOAY article
Employee Appreciation Event at the Appalachian Power Park

Take us out to the ball game! Mountain State Oral & Facial Surgery celebrated at Appalachian Power Park for the 2022 annual Employee Appreciation Event. Our team loved cheering on the Charleston Dirty Birds and even got to throw out the first pitch of the game! At Mountain State Oral and Facial Surgery, we are proud to have an amazing team focused on patient care.
Virginia Open House

Mountain State Oral and Facial Surgery is growing! Our group of board-certified surgeons hosted an open house in June to celebrate their ninth office location in Vinton, Virginia. We are proud to be a part of this community and bring world-class care to restore smiles. Our Vinton location offers our full range of services including dental implants, wisdom tooth removal, general extractions, and more!
New Sponsorships
Mountain State Oral and Facial Surgery is not only dedicated to restoring smiles and offering the best patient care but to the communities in which we work. For the year of 2022, we have invested donations into several different organizations and causes across three states!
| | |
| --- | --- |
| • | Hoover Project Graduation |
| • | Brewgrass |
| • | Taste of Parkersburg |
| • | School Boosters |
| • | Vinton Rotary Golf Club |
| • | Bridge Day |
| • | West Virginia Cupcake Festival |
Live on the Levee

See Mountain State Oral and Facial Surgery on Friday nights in downtown Charleston at Live on the Levee! This family-friendly summer concert series is hosted by the city of Charleston and features various styles of music from May to September. Now in its 18th year, Mountain State Oral and Facial Surgery is proud to be a sponsor and interact with patients across the Kanawha Valley in West Virginia.
Race for the Ribbon

Mountain State Oral and Facial Surgery joined the West Virginia Breast Health Initiative for the 2022 Race for the Ribbon in May. This 5K event is held to raise money for financial support and detection services for families battling breast cancer. Our team had a blast participating in this event and supporting our community & other health initiatives.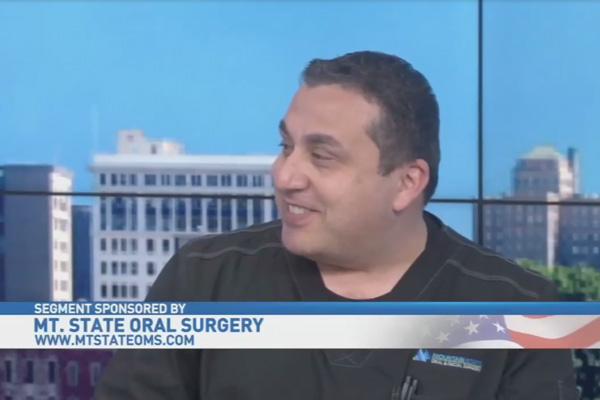 Dr. Krajekian talking about wisdom teeth extractions on Ask the Experts.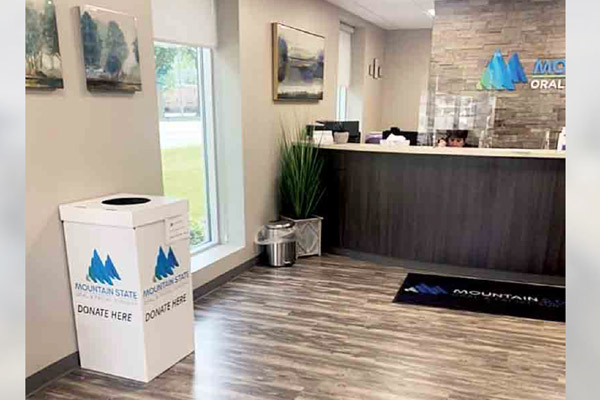 "Many families are facing difficult times with the adverse health and economic impacts of coronavirus," Dr. Krajekian said. "We want to help our neighbors in need as well as restock food banks that are facing greater demands this year."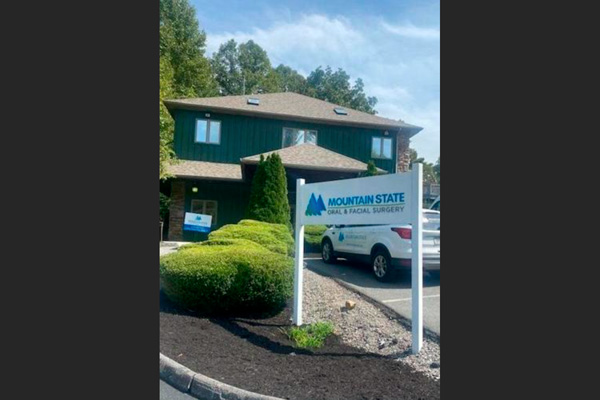 Dr. Jack Krajekian, Board Certified Oral and Facial Surgeon at MSOFS, said, "We have a long-standing commitment to the city of Beckley and the region, and we wanted to offer state-of-the-art equipment and a first-class patient experience."
Dr. John Brock featured as a participating provider for Marshall University Athletics.