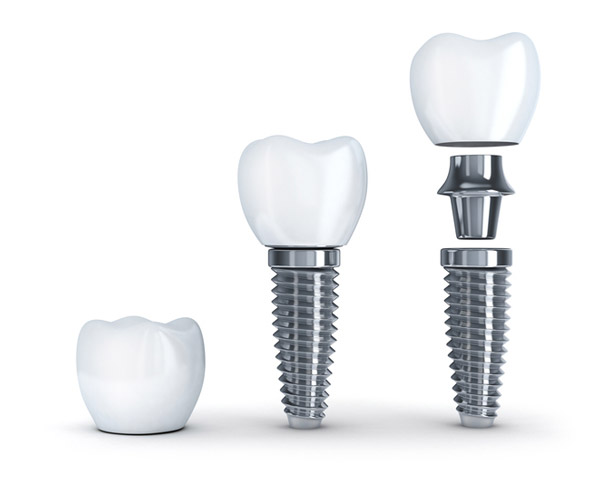 There are various restorations available for replacing missing teeth, but only a dental implant rebuilds the root. At Mountain State Oral and Facial Surgery, we want to not only give you a beautiful smile, but a functional and healthy one as well. Your jawbone relies on the connection the root provides for optimum well-being and wholeness.

We invite you to learn more about the important role a root plays in our oral health and how restoring missing roots using dental implants will greatly benefit your oral health.


What are Dental Implants?
Whether you have lost teeth due to disease, injury, or extraction, we can help. We use dental implants to restore missing tooth roots. The implant is a post that we surgically embed into your jaw to reestablish the connection between the tooth and bone. Once healed, this implanted post will serve as an artificial tooth root, providing a firm structure in your mouth.

Dental implants are shaped similarly to a screw in both size and shape. It has a threaded end to capture a lot of bone material, and a head that allows us to attach a prosthodontic. The number of implants we use varies on the prosthodontic, which could include a dental crown, bridge or denture.

Dental implants are often made using metallic titanium, but there are non-metallic ceramic options available for patients with metal sensitivities or if we think the dark metal could be seen through the gum tissue.
How do Tooth Implants Work?
The science behind dental implants begins with our ability to heal. Decades ago, doctors noted that bone continues to grow, so if we place a biocompatible device, the bone will grow around it, fusing the device to the bone. Surgeons now use this natural healing ability to repair bone, using metallic devices, throughout the skeletal frame.

Following a period of healing, known as osseointegration, your newly placed implanted tooth root becomes part of the bone just as your natural tooth root once was. A dental implant is more than a restoration, it is a reconstruction.
What are Clear Choice Implants?

Clear Choice Implants are an all-inclusive brand of implants. We handle the entire process from start to finish. Other implant options may require varying offices handling various steps in the process. Clear Choice provides single implants, multi-tooth implants, and an all-on-4 implant retained denture.




Our team at Mountain State Oral and Facial Surgery is happy to discuss dental implants specific to you. We invite you to schedule a consultation. Most of our patients are eligible for implant treatment, it is not dependent on age to qualify. The main criteria we seek in implant candidates is their ability to heal appropriately. There are multiple medications and health conditions that can limit healing. Making simple changes may be the answer, we are happy to discuss changes with you or your physician.



If you are missing one or more teeth, your dental health is already being impacted. We can help restore your bite by rebuilding your teeth from the ground up with dental implants.


Ask Us About Clear Choice!

We can rebuild missing teeth. Contact our Charleston, WV office for more information. (304) 343-5161.