Single Tooth Replacement with Implants in Charleston, WV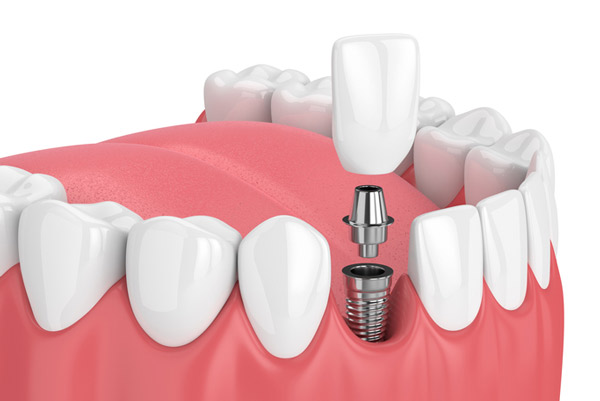 The loss of even a single tooth can affect the function, health, and esthetics of your mouth. In the United States, at least 178 million people are missing at least one tooth. In the past, the only treatment option for a missing tooth was a dental bridge, or, in case of multiple missing teeth, dentures. Thanks to advancements in dental technology, however, we now have dental implants that are almost as good as your natural teeth. A dental implant consists of a screw-shaped titanium prosthetic that is emplaced into the jawbone at the site of the missing tooth root. An abutment is attached to the dental implant which forms a connection between the implant and a dental crown. At Mountain State Oral and Facial Surgery, we can provide you with the most effective dental implant treatment to replace your missing teeth.


Single-Tooth Implant Emplacement Procedure

Single tooth dental implant is performed on people who are missing one tooth. The implant is embedded surgically into the jawbone to act as a solid foundation for the artificial tooth. For a single tooth implant procedure to be a success, you need to have ample jawbone density that can support the implant. If your jaw density is not adequate, we will need to perform a bone augmentation procedure to grow stronger bone in your jaw. At Mountain State Oral and Facial Surgery, we will check the health of your mouth and teeth and will create a personal treatment plan for you. We will first numb the site of the surgery with local anesthesia. Next, we will make an incision in the gum tissue and make a small hole in the underlying bone. We will then place the titanium implant into an empty tooth socket. The wound is then sutured closed and allowed to heal for about four to six months. During the healing process, the dental implant will fuse to your jawbone through a process called osseointegration. This is what creates a strong and steady foundation for a dental implant. Once the implant is fused to the jawbone, we will attach the abutment to it. We will then take an impression of your teeth to create a permanent dental crown for your implant. When the crown is finished, it will be attached to your abutment. Your brand-new replacement tooth will look, feel, and function just like your real tooth.


Benefits of a Single-Tooth Implant Over A Dental Bridge

An alternative option for a single-tooth implant is a dental bridge. However, the former offers a lot of benefits over the latter:

| | |
| --- | --- |
| • | A traditional dental bridge requires the support of the adjacent healthy teeth. These teeth need to be shaved down so that they can accommodate dental crowns which will anchor the dental bridge. As such, a dental bridge is not as good for your oral health as a dental implant. |
| • | A dental implant prevents the resorption of the jawbone, which happens when the part of the jaw that has lost the tooth no longer receives any stimulation. A dental implant will replace the root of your tooth and strengthen the bones in your jaw. In contrast, a dental bridge cannot replace the tooth root. Hence, some of the bone around the site of the missing tooth will deteriorate. |
| • | A single tooth dental implant requires very little maintenance and can be cleaned just like your regular teeth. On the other hand, you need to be careful with cleaning dental bridges as the cement holding the bridge can break off in time. |
| • | A dental implant is very strong and stable and can replace any tooth without complications. On the other hand, dental bridges can withstand only a certain amount of pressure so you need to be careful where you place them and what you eat since they can break or cause your crowns to fracture. |

If you have lost a tooth, a dental implant is the most effective way to replace it. To make sure your dental implant lasts for decades, do not miss your routine dental checkup appointment with us. To schedule an appointment, call us at 304-343-5161 today.