Dentures - Not a Long-Term Solution Charleston WV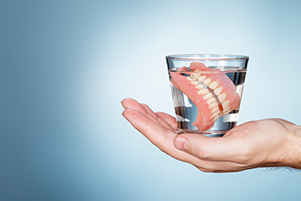 About 40 million Americans are missing all of their teeth. For many years, the only solution for a full arch of missing teeth was dentures. However, thanks to dental advancements, we now have dental implants that can help you get optimal dental functioning. In comparison with dentures, dental implants are a much better alternative.


What are Dental Implant Bridges?

Dental implants are screw-shaped titanium dental prosthetics designed to replace the root of a missing tooth. These dental implants fuse with the jawbone and provide better support to the artificial tooth. This results in better chewing and biting ability. If you are missing all of your teeth, dental implant bridges can be used to replace your teeth. These consist of overdentures that are attached to four to six implants that are placed in strategic locations of your jaw. The implants support the entire overdenture that consists of a complete set of artificial teeth.


Dentures vs Dental Implants

There is no doubt that dentures are a non-invasive and effective way to replace your teeth. However, they have several limitations and drawbacks as compared to dental implants:


| | |
| --- | --- |
| • | Esthetics: Dentures are made of plastic and acrylic and are not very realistic looking. In contrast, dental implants are embedded in your jaw and look virtually indistinguishable from your natural teeth. This can help restore your confidence. |
| • | Comfort: Dentures feel bulky in the mouth and can cause sores and lesions where they rub against your gums and inner cheek. They also slip and slide in the mouth if they are not secured by denture adhesives. In comparison, dental implants are firmly rooted in the jaw and behave just like your regular teeth. They are very secure and allow people to bite and chew with ease. |
| • | Jawbone Density: When you lose your teeth, your jaw loses the necessary stimulation that helps it grow and become strong. As a result, it starts to disintegrate leading to the structural collapse of your face. Dental implants replace the tooth root and provide the same kind of stimulation as your natural teeth. As a result, they prevent bone resorption and gum recession. |
| • | Chewing: Dentures do not provide the best chewing and biting function since they are not very secure. Most people who wear dentures cannot eat all their favorite foods like apples and meat. In comparison, dental implants offer superior chewing and biting ability and you can eat all types of food with them. |
| • | Maintenance: Dentures require a lot of careful handling and special cleaning. You need to remove dentures every night and clean them with a soft-bristled toothbrush. They also need to be soaked in cool water or a cleaning solution overnight so that they will retain their shape. They can also become damaged with harsh chemicals and hot water or if they fall on the floor. In contrast, dental implants are fixed prosthetic and only require the same maintenance as your natural teeth. |
| • | Durability: Dentures last for up to seven years. Since they do not prevent the shape of your jaw from changing, you may also have to rebase or reline your dentures or make a completely new pair in just a few years. Moreover, they can also fracture from a little pressure. In contrast, implants can last for over 25 years with good oral hygiene. They also have a success rate up to 98%. |

As you can see, dentures do not offer a permanent or comfortable option for people who have lost their teeth. In comparison, dental implants can perform almost exactly like your natural teeth. If you are interested in dental implants, our professionals can check whether you are a suitable candidate for it. Call us today at 304-343-5161 to schedule an appointment with us.