Intraoral Camera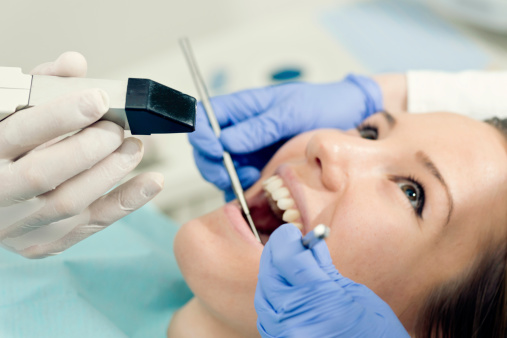 Intraoral cameras are small, lightweight cameras which can be extended into the mouth much like a dental mirror or a small UV light. However, unlike a mirror or a light, it not only helps the dentist observe the back of your teeth clearly; it also helps them take close-up pictures of your teeth and get a closer look at any dental problems which you might be facing. Intraoral cameras have a built-in light source which behaves like a flashlight by illuminating the mouth for easier viewing. The intraoral camera assists in taking high-quality colored photographs of any part of the mouth cavity. Our professionals here at Mountain State Oral and Facial Surgery make excellent use of this technology to ensure that you, as our patient, receive the most accurate diagnosis of your dental health every time.


How Are Intraoral Cameras Used?

Intraoral Cameras are extremely easy and absolutely painless to use. They are simply like shining a flashlight into your mouth, but because of the small camera within them, you will be able to see the interior of your teeth very clearly on a larger screen. During this procedure, we give you a little tour of your mouth cavity, as well as point out any issues in your teeth and gums so that you can see them for yourself. This can help you better understand why we recommend a particular treatment.


When and Why Are Intraoral Cameras Used?

Intraoral cameras are an indispensable aid to us for a variety of reasons. One of the primary ones is the extremely small nature of the structures that we tend to study in your mouth. Our teeth are sensitive, highly used and perhaps one of the most difficult-to-maintain parts of our body, which is exactly why they require extensive care and precise checking for any kind of debris or bacteria buildup on them. Intraoral cameras make this otherwise tremendously difficult task much easier for us.

Intraoral cameras are used when we need to take a look at, as well as extensively study, certain parts of your teeth (which are otherwise tucked away in the unreachable corners of your mouth). With photographs of these structures, we are able to check if there might be some sort of disease or issues in your mouth, and then take action to properly treat these areas.

There are also several occasions when we might have to study a certain part or an issue in the mouth cavity, and an intraoral camera helps in such cases. By taking this image, we will be able to have a picture of the specific part if it becomes necessary for future reference. All in all, intraoral cameras have helped us take a leap forward, and have made troubleshooting of dental problems much easier as well.

Our office is equipped with all the latest dental technology, including these compact cameras, to help to ensure that our valued patients are able to get the most out of every visit with us. Regardless of whether you think that you have a dental problem or not, giving your oral health a thorough checkup using adequate and updated equipment is a must to ensure that you do not have any problems brewing within the hidden crevices of your mouth. If you are interested in learning more about intraoral cameras, or you would like to set up an appointment with us, please give us here at Mountain State Oral and Facial Surgery a call at 304-343-5161 today.