Meet Manuel M. Rodriguez-Reyes, DDS
---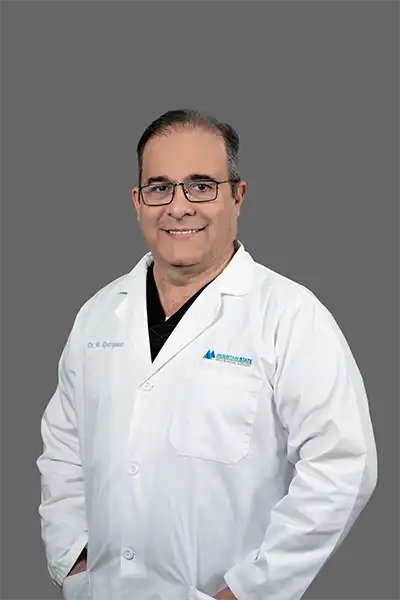 Dr. Manuel M. Rodriguez-Reyes is a Board Eligible, Oral and Maxillofacial Surgeon, who joined Mountain State Oral and Maxillofacial Surgery in August of 2021, after he and his family decided to move to West Virginia. Dr. Rodriguez-Reyes was born in Holguin, Cuba.


Education & Residency

After graduating from the Santiago de Cuba Institute in 1995, Dr. Rodriguez-Reyes earned his Doctor of Dental Surgery (DDS) degree. He graduated as a Maxillofacial Surgeon in Cuba in 1999, where he completed a fellowship program focused on the head and neck at the National Oncologist Institute, Cuba. Dr. Manuel M. Rodriguez-Reyes also completed an internship in Oral and Maxillofacial Surgery at the University of Miami Miller School of Medicine in the DeWitt Daughtry Family Department of Surgery at Jackson Memorial Hospital in Miami, Florida.


Oral & Maxillofacial Surgery Focus

After practicing for 6 years as a general dentist in the Miami and Fort Myers area, Dr. Rodriguez-Reyes was accepted into the University of Puerto Rico Medical Science's Oral and Maxillofacial Surgery program.


There, he practiced the full scope of Oral & Maxillofacial surgery with an emphasis in:
| | |
| --- | --- |
| • | Maxillofacial Trauma surgery |
| • | Dental Alveolar surgery |
| • | |
| • | Facial Reconstructive surgery |
| • | Corrective Jaw (Orthognathic) surgery |
Dr. Manuel M. Rodriguez-Reyes's practice encompasses the full range of Oral and Maxillofacial surgery, including:
| | |
| --- | --- |
| • | |
| • | |
| • | |
| • | |
| • | |
| • | Soft Tissue Pathology |
| • | Reconstructive Surgery |
Memberships and Associations

Dr. Rodriguez-Reyes maintains active membership at the American Association of Oral and Maxillofacial Surgeons, the American College of Oral and Maxillofacial Surgeons, and the Clinical Interest Group on Cosmetic Maxillofacial Surgery in the United States and Latin America.

Dr. Manuel M. Rodriguez-Reyes shows great dedication to his patients wherever he goes, locally or internationally. He has participated in surgical mission trips to the Dominican Republic.


Community Commitment

Outside of surgery, Dr. Rodriguez-Reyes enjoys an active lifestyle, which includes working out, walks on the beach, and visiting multiples countries to learn more about their cultures. He also enjoys spending time with his family and friends.