Tooth Extraction Charleston WV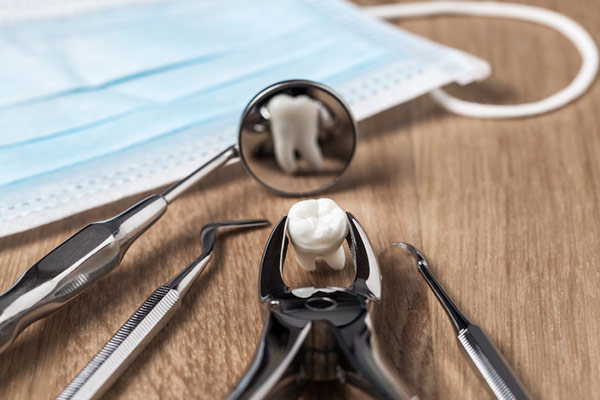 The extraction of teeth is a treatment we complete to improve oral health. Extraction may be a step in a treatment process, or as a preventive action. Part of the extraction process is determining how we will assist your mouth in continuing toward positive oral health following, this may include the use of an orthodontic device, the placement of a dental implant, or a prosthodontic appliance. Our staff at Mountain State Oral and Facial Surgery can help you achieve better oral health, which may include extracting unhealthy or impacting teeth to achieve it.

In the past, teeth were much more commonly extracted. Today, we have a greater understanding of the importance of each tooth structure and the role they play. It is now our goal to restore and rebuild teeth whenever possible. Even still, sometimes extraction is the best option.

We may recommend the removal of a tooth when:

| | |
| --- | --- |
| • | The Tooth is Impacted: Impacted teeth are teeth that are unable to fully ascend into position. The amount of impaction can vary from entirely below the gumline to mostly above the gumline but not fully. In some cases, the patient may be able to use an orthodontic device such as braces to help, but in some cases the best route is extraction. The wisdom teeth are often impacted. |
| • | The Tooth is Damaged beyond Repair: Teeth that are fractured, broken or diseased beyond repair will need to be removed to restore your oral health. Sometimes the best solution to repair is to start from scratch. |
| • | The Tooth is an Extra: Extra, or double, teeth do occur. Hyperdontia is a somewhat common disorder known as supernumerary. It is most commonly seen in maxillary incisors. Extra teeth are generally removed due to insufficient space. |
| • | The Tooth has Insufficient Space: Spacing can impact the patient's bite or malocclusion. We may work with an orthodontist to remove teeth for better spacing which is then followed by an orthodontic device such as braces to allow for controlled movement of neighboring teeth. |

Wisdom teeth are often removed due to multiple factors including being impacted, insufficient room, and as a preventive step due to their likelihood of developing decay and disease.


Surgical and Non-Surgical Extraction

The extraction of teeth is categorized as either surgical or non-surgical, a non-surgical extraction can turn into a surgical one mid treatment.


Non-Surgical Extraction

A non-surgical extraction is completed when several factors are possible, including the tooth is fully up, we are able to lift it from its root and use pliers to grasp entirely around the tooth and pull it cleanly out.


Surgical Extraction

The surgical extraction of the tooth means that cuts to the gum tissue are needed to remove the entire tooth. This is common in the extraction of wisdom teeth. In a surgical extraction, the tooth is quartered and then removed in pieces. In some cases, pieces of the bone are also removed. Sutures may be applied to any tissue that was cut to retrieve the tooth.


Contact Us!

We invite you to learn more about dental extractions and the steps we take following the extraction, including restoration of the area with dental implants, dentures, or more. Contact our Charleston, WV office at (304) 343-5161 for more information.