Digital X-Rays

Charleston, WV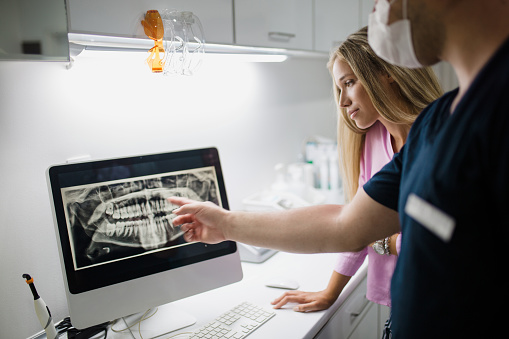 Good oral health starts with routine dental checkups. While these appointments are integral to help make sure you have a happy and healthy smile, they are not enough on their own to make sure your mouth remains healthy. In addition to these bi-annual checkups, we here at Mountain State Oral and Facial Surgery also recommend that you get regular dental x-rays, as well. Fortunately, digital x-rays have made diagnosing and treating dental health concerns both a safe and simple process.


Who Can Benefit from Digital Dental X-Rays?

There are many reasons that we may recommend digital x-rays to a patient. Common considerations for who may need an x-ray are patients who have not had them done within the past two years, those of you who may be planning orthodontic treatment, and anyone who is complaining of tooth pain. However, these are just a few reasons that a patient may benefit from digital x-rays.

Digital x-rays are a fantastic diagnostic tool, allowing us to take a closer look at your oral health. Unlike conventional x-rays, digital x-rays are not developed on film negatives. Instead, they are both viewed and stored electronically. This means that we can easily zoom in on trouble areas, taking a closer look at them with ease. We can also adjust the brightness and contrast of these images, reducing any guesswork in diagnosing your oral health.

By taking these digital x-rays, we can also improve both the speed and the quality of care that we provide to you. Because we do not need to send the x-rays out to a lab to be developed, we can immediately view them and start working on a treatment plan. Not only do they give us the opportunity to see all the structures of your mouth and teeth at a glance, they also make it much easier to share the results of your x-rays with other healthcare providers. We are also able to save these digital images in your electronic file, reducing the risk of them becoming lost or misplaced.


Why Are Digital X-rays a Better Choice?

Many patients are understandably a little bit nervous about having us take x-rays of their mouth. Not only are the cameras clunky and unwieldy, the concerns about radiation are also something that makes many of our patients hesitant. Fortunately, digital x-rays are much easier and more comfortable than conventional x-rays. Instead of a bulky camera in your mouth, we instead use a small sensor to take the x-rays. Even more importantly, the risk of radiation exposure is also dramatically reduced. While traditional x-rays are quite safe, digital x-rays produce 90% less radiation than the alternative.

With the introduction of digital dental x-rays, patients are now able to receive unmatched dental care without having to worry about radiation, misplaced files, or any unnecessary delays in their treatment. We are pleased to offer this cutting-edge technology to our patients, giving them unparalleled care and service when they schedule an appointment with us. To learn more about digital x-rays and how we use this technology at our office, please do not hesitate to reach out to us here at Mountain State Oral and Facial Surgery at 304-343-5161 today.