Tooth Extraction Huntington WV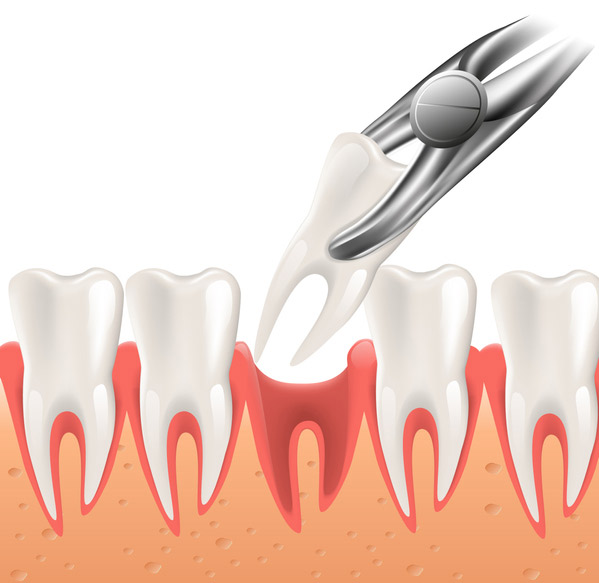 When you imagine tooth extractions, you probably think about forceps and long needles. As much as you might not want to go through with this procedure, it may be inevitable at some point. We recommend extractions of teeth that are severely infected and damaged. Removing such teeth is essential to avoid infections spreading to your nearby teeth. If you have any problems with your teeth, ensure you visit our Huntington office for a professional review. Our modern equipment can detect any problems in your teeth, and we will find the best treatment remedy for you.


When Do You Need an Extraction?

Tooth extraction is crucial when your teeth are decayed, infected, or damaged, and regular dental treatments are ineffective. If we discover that treating your teeth through a filling or crown is impossible, then extraction is the best solution.

Severely damaged or decayed teeth should not be left in your mouth. Delaying the extraction process will put you at an increased risk of infections which can also compromise your general health. Additionally, impacted teeth can cause pain, decay, and infections that necessitate extraction. Some other reasons that you might require extraction include:


Overcrowded Teeth

Your jawbone might not have sufficient space to hold all your teeth. In such a scenario, your teeth will remain crowded, leading to other infections such as tooth decay. If you have crowded teeth, we will remove some and leave enough space for others to grow.


Baby Teeth Extraction

Baby teeth must be extracted to allow permanent teeth to grow. Also, if the baby's teeth are severely decayed, they may need to be removed. In other instances, the teeth can be impacted, cracked, or loosened, and the only solution should be removal.


Trauma

Your teeth are pretty susceptible to trauma. If you often play strenuous activities such as baseball, you are prone to accidents that can interfere with the health of the teeth. Sometimes a tooth that is severely damaged may need to be removed.


What Does Extraction Entail?

The extraction process involves many steps. This process starts with the examination of your teeth to check the condition of your teeth. We also assess the structures and position of your teeth. Diagnostic tests such as x-rays can help detect any issues with your teeth and determine the best extraction process.

Next, we administer local anesthesia to ensure the procedure is pain-free and you are as comfortable as possible. For extensive extractions, we may need to use general anesthesia. Also, sedation is necessary if we note you have dental anxiety.

After the area is numb, we use specialized instruments to loosen your teeth and forceps to rotate the teeth and remove them from their socket. However, for a tooth that is impacted, we use surgical extraction to remove all the fragments from the socket of the tooth.

After the tooth extraction process, we properly clean the area and remove any infected tissue and debris. We then place sutures to close the extraction site and ensure proper healing.


Do I Need a Bone Graft After Extraction?

Bone graft after extraction is not necessary for all patients and will depend on various factors. We first inspect your tooth socket and any dental treatment needs. Here are some of the scenarios where bone grafts can be fundamental:


Socket Preservation

A bone graft can be integral after the extraction if you plan to get an implant. Socket preservation is achieved by placing the grafting material on your empty tooth socket, which helps prevent bone loss and adequately maintains the density and volume of your jawbone. This will offer a solid foundation where the implant will be mounted.


Insufficient Bone Density

If we note that your jawbone has experienced extensive bone loss and has a shallow density, we will recommend a bone graft. The graft helps to strengthen your bone. We will perform grafting before dental implant installation or any other restorative dental procedure.


Sinus Lift Procedure

When we extract your upper back teeth, sinuses may expand and encroach on the site. This will leave an insufficient bone height that can facilitate the placement of an implant. This sinus lift procedure involves lifting your sinus membrane and installing the bone graft on the gap, which will provide sufficient bone volume for the placement of an implant.

For more information, visit our Dental Implant FAQ!


Advantages of Tooth Extraction

We recommend tooth extraction as a last resort when other dental treatment methods have failed. However, this method can have many advantages and comes in handy in managing some dental issues. Some of the top advantages of extraction primarily include:


Relief of Pain

Teeth that are severely decayed or damaged can cause persistent pain in your gum tissues. These teeth spread infections to the adjacent tissues and structures, which can lead to a lot of discomfort. Extracting them is recommended to offer immediate relief of pain.


Prevention of Infections

Extracting decayed or infected teeth is another way to help prevent infections. It helps prevent infections from spreading to other parts of your mouth and body. Extraction will also help prevent complications such as abscesses, jawbone infections, and periodontal disease.


Improves Your Oral Health

Removing decayed teeth also helps to improve your oral health. This will help eliminate infection or inflammation and keep your teeth healthy.


Orthodontic Treatment

If you have overcrowded or misaligned teeth, extraction is crucial to create enough room for proper alignment of the other teeth. It can be considered a part of orthodontic treatment in such cases. Typically, removing these teeth can help you achieve a uniform bite.

We consider tooth extraction after all other conservative dental treatments have failed or are not viable for your condition. When we note that you have severely infected teeth, we properly explore your situation and recommend the best treatment approach. If any of your teeth are causing discomfort or severe pain, ensure you visit us at Mountain State Oral and Facial Surgery. We have modern equipment that will assist us in detecting the underlying problem. If extraction is the only resort, we will perform it in a sterile environment. For more information about our services, ensure you reach us at (681) 432-3939.