Tooth Extraction Parkersburg WV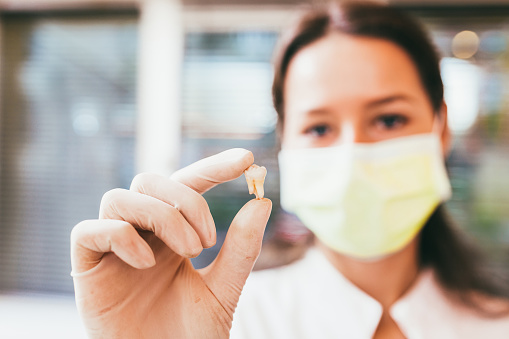 Tooth extractions can be fundamental to solving common dental issues such as tooth decay, severe gum disease, and fractured teeth. Extracting damaged teeth helps prevent infections from spreading to adjacent teeth and ensures you have healthy teeth. However, it would be best if you visited Mountain State Oral and Facial Surgery in Parkersburg WV so that we can check the nature of your teeth and decide whether extraction is essential or not. If you have small cavities on your teeth, we will only recommend dental fillings to resolve the problem.


What is a Tooth Extraction?

Tooth extraction involves dislodging one or many teeth from their socket. We perform this procedure using modern dental tools to ensure you get the best results. This procedure may involve the removal of one or multiple teeth. Before we extract the teeth, we administer local anesthesia to ensure the process is painless. We then proceed to loosen the teeth and remove them using special forceps.


Is Tooth Extraction Necessary?

Tooth extraction is necessary in some situations, such as:


Severe Tooth Decay

When your tooth is severely decayed, it is impossible to save that tooth. If you remain with decayed teeth, they will cause infections to the surrounding teeth and gum tissues. Extraction is essential to ensure your other teeth remain healthy and your oral health is good.


Crowded Teeth

In some circumstances, your jawbone may be too small to hold an entire set of teeth. Thus, you will note that your teeth are overcrowded, which causes problems in brushing and flossing. If you cannot adequately take care of your oral health, you will note that you are susceptible to cavities and decay. We recommend that you extract some teeth to create sufficient space for the healthy growth of others.


Impacted Wisdom Teeth

Wisdom teeth grow at the backmost part of your mouth. Since these teeth are the last to erupt, they may fail to grow correctly. For instance, they can grow inclined at the wrong angle, or in some cases, they may remain trapped in your gum tissues and bone. Impacted wisdom teeth will lead to infections and pain and may damage your other teeth. If you have such problems, ensure you contact us for extraction.


Periodontal Disease

Periodontal disease causes significant damage to your tissues and teeth. The condition can lead to loose teeth and eventually may lead to tooth loss. In such circumstances, extraction is crucial to address the problem and prevent the deterioration of gum disease.


When considering extraction of your teeth, you need the process to be done by an expert, such as an oral surgeon. We are a team of experts and well-trained oral surgeons who strive to ensure the process is done accurately and carefully. Here are some of the reasons you should consider us:


Training and Expertise

Tooth extraction, whether simple or surgical, is quite sensitive, and any mistakes can lead to infections and bleeding. However, we have the proper training and expertise to conduct the extraction process carefully. We make incisions using sterile objects to ensure you are not exposed to infections.


Perform Even the Most Complex Extractions

A general dentist may not be able to handle complex extractions. However, we are trained to remove impacted teeth or those teeth that have anomalies. Whether the teeth are impacted or are deeply rooted, we can comfortably remove them. Our extensive experience in eliminating such teeth is unparalleled.


Well-Versed in Performing Sedation

Another reason why you should choose us is our experience in performing sedation. We ensure that every patient is comfortable by sedating them or using local anesthesia to make the process painless. With an oral surgeon, you are 100% guaranteed that the process is done safely.


How Can I Fix My Smile After an Extraction?

After tooth extraction, you will have unsightly gaps in your gums. These gaps can lower your self-esteem, and you may be unable to chew and grind food correctly. Thus, it is essential to consider ways to restore your smile, such as:


Dental Implants

We can recommend implants as a long-lasting alternative if you have missing teeth. We place dental implants on your jawbone. The implants will act as a replacement for the root of your teeth. We will request you come for a check-up regularly so that we can see whether the implants have adequately fused with your jawbone. Once fusion has taken place, we can place crowns for a better smile.

For more information, visit our Dental Implant FAQ!


Dental Bridges

A dental bridge is another great alternative to your missing teeth. This prosthetic device has artificial teeth anchored using crowns to your adjacent teeth. The crowns will be placed on your healthy teeth to support the artificial teeth. With these solutions, you can comfortably perform your oral activities.


Removable Dentures

Removable dentures are engineered from various materials, such as metal or acyclic. These new teeth will fit over the space left after an extraction, giving you a better experience. With dentures, you are able to chew and grind food.


Flipper

A flipper is another alternative that you can consider. It is a partial denture that can flip in its position. The flipper does not depend on the surrounding teeth and is not supported by metal clasps. This option is cheap and painless and does not involve painful incisions. Additionally, it is lighter, and you can comfortably chew and grind food.

After tooth extraction, it is crucial to look for a replacement tooth for a better smile. This is important as tooth loss severely impacts your dental health. Primarily, gum tissues and bones not stimulated by teeth tend to degenerate and become unhealthy. You are also not able to properly chew, smile, or grind food. Visit our clinic at Mountain State Oral and Facial Surgery for proper review and dental treatment. We perform diagnostic tests, examine your teeth, and recommend the best solutions. If you feel concerned about your dental health or need to book an appointment, contact us at (304) 699-5010 for proper guidance.