Why Choose an Oral Surgeon? Parkersburg WV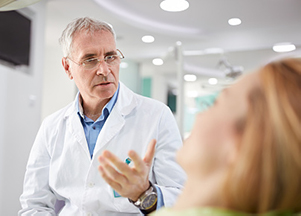 If you enjoy helping others and are skilled with your hands, a profession in oral surgery is in high demand. A licensed oral surgeon, also referred to as an oral and maxillofacial surgeon, carries out corrective procedures on the teeth, jaw, and face. It's critical to select an oral surgeon who is qualified for the operation, whether you require dental implants, wisdom tooth removal, tooth extraction, adult braces, or jaw surgery in Parkersburg, WV.

Get your wisdom tooth removed or a dental implant at Mountain State Oral and Facial Surgery, where our team of oral surgeons will give you an amazing patient experience.


Who Are Oral Surgeons?

A dentist with additional years of school and training in mouth and jaw surgeries is known as an oral surgeon. Wisdom tooth extraction, dental implant installation, corrective jaw surgery, and biopsies are common oral surgery treatments. Furthermore, oral surgeons also treat face, mouth, and jaw traumatic injuries. Patients might receive a recommendation for an oral surgeon from their regular dentist or another healthcare provider. Since oral surgeons must complete a high degree of education and training, they are very proficient in carrying out complex surgeries with care and precision. An oral surgeon's experience can help make the process as easy and successful as possible, despite the fact that some patients may feel worried about having oral surgery.


Advantages of Consulting an Oral Surgeon

Oral surgeons are competent in handling difficulties and emergencies that may occur after surgery. These cases include severe situations involving obstructed wisdom teeth, jaw surgery, and physical trauma.

An oral surgeon can offer relaxing sedative choices for patients that are feeling anxious. Many insurance providers view oral surgeons as specialists; therefore, they may offer better coverage for surgical treatments. The equipment and services in an oral surgeon's clinic are developed expressly for surgical operations. An oral surgeon's primary priorities are your general health and well-being because they will improve the results of your surgery.


When Should You Consult An Oral Surgeon?

In general, oral surgeons are essential to preserving overall dental health. Always getting professional assistance when it relates to dental health is crucial. While your family dentist might be able to take care of minor concerns, more complicated conditions like obstructed wisdom teeth or jaw dislocation might need to be treated by an oral surgeon.

Oral surgeons are the greatest candidates for serious oral issues since they have the most training and surgical expertise. They frequently provide choices for anesthesia as well for a more pleasant experience. You can call us at (304) 699-5010 to make an appointment at our Parkersburg office for your specific problem, and we'll create a unique treatment strategy just for you.